Corporate Social Responsibility
In its social responsibility activities, Türk Telekom aims to eliminate the economic, social, regional or physical disadvantages that prevent access to information, by taking advantage of technological opportunities and offer equal opportunities to all its stakeholders.
Describing the contribution to the country's digital transformation as one of the key elements of its social responsibility approach, the Company prioritises everyone's equal participation in social life and easy access to information.
Taking the United Nations Sustainable Development Goals as its guide, Türk Telekom continues its activities in line with the principle of accessible communication for all. The Company designs and implements corporate social responsibility projects that add value to Turkey, particularly within the scope of Quality Education and Reduced Inequalities objectives.
Türk Telekom did not made any donations or expenditures to political institutions or organizations, lobbying activities or any organization engaged in lobbying activities, any trade union and any role that has an influence in political campaigns, public policies or legislation in 2021.
Türk Telekom led numerous social responsibility projects in light of "Türkiye'ye Değer" motto
The social responsibility projects conducted by Türk Telekom in accordance with its motto of "Bir fark yeter, Türkiye'ye Değer" (Even the smallest difference matters, Turkey is Worth All Our Efforts), include Hedefi Olan Kadına İnternetle Hayat Kolay (Life is Simple with Internet for the Woman with Goals), Telefon Kütüphanesi (Books on the Phone), Günışığı (Sunshine), EyeSense Programme, Türk Telekom Okulları (Türk Telekom Schools), Türk Telekom Amatör Spor Kulüpleri (Türk Telekom Amateur Sports Clubs), Abonelikli Bağış Sistemi (Subscription Based Donation System) and Erişilebilir Yaşam (Accessible Life).
Local social responsibility activities organised by Türk Telekom Provincial Directorates are also carried out under the umbrella of "Turkey is Worth All Our Efforts".
Türk Telekom's Life is Simple with Internet for the Woman with Goals project reached its 5 thousand women target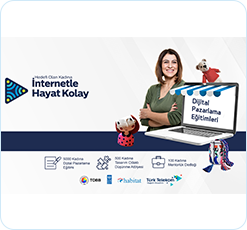 Women's participation to workforce and their employment are among the most essential elements of sustainable development. Additionally, this issue is also important in terms of ensuring continuity in economic growth, and fully achieving social development and social justice.
Serving Turkey's digital transformation, Türk Telekom aims to expand women's knowledge on issues like information and communication technologies, e-services and e-commerce, with Life is Simple with Internet for the Woman with Goals project launched in September 2019. The Company carried out this project in cooperation with the Union of Chambers and Commodity Exchanges of Turkey (TOBB), the United Nations Development Programme (UNDP) and the Habitat Association.
Thanks to the Life is Simple with Internet for the Woman with Goals project, women who had an idea or wanted to sell a product were introduced with the opportunities offered by online platforms. This project, which also expands women's e-commerce knowledge, aims to encourage women with entrepreneurial potential to participate in the production economy by improving their ability to use information technologies and digital platforms effectively.
The project, which reached 5 thousand women as of June 2021, a design focused thinking workshop was held with the participation of 500 women, and 100 women were provided with one on one mentoring support. A Digital Marketplace event was held on March 8, International Women's Day with the participation of 10 prequalified women applicants, who had the opportunity to introduce themselves and their products.
Telefon Kütüphanesi is 10 years old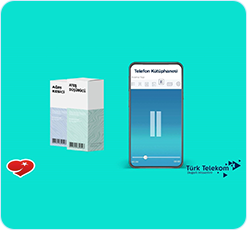 With another social responsibility project, Telefon Kütüphanesi, Türk Telekom offers a free of charge service where visually impaired people can access books and various content via smartphones. Turkey's first Telefon Kütüphanesi, carried out in cooperation with the Boğaziçi University Technology and Education Laboratory for Individuals with Visual Disabilities (GETEM), has been providing the visually impaired people with access to information for 10 years.
The library has more than 2 thousand audiobooks and content in more than 50 categories.
In addition to books, Telefon Kütüphanesi includes audio descriptions of 30 world famous paintings, instant news feeds provided by the Anadolu Agency, cash currency recognition, and audio access to prospectus of more than 6 thousand medicines.
Users have spent nearly 15 million minutes listening to the Telefon Kütüphanesi since its launch in 2011. The mobile application, which was launched in 2016, has been downloaded 51 thousand times. The Kitaplara Ses (Voice to Books) application, which facilitates voluntary reading for the visually impaired has been downloaded 63,747 times.
30 world famous paintings in the application were exhibited with audio description at the Presidential National Library, Turkey's largest library, at the Paintings Are Talking Digital Painting Exhibition which was held between May 31 and July 30, 2021.
Türk Telekom launched the Give Voice to the Books campaign in participation of its employees on December 5, 2020, International Volunteer Day. As part of this campaign, volunteer employees voiced 20 thousand pages of books for the visually impaired through the Kitaplara Ses application. The 100 books that were voiced were made available to the visually impaired on the April 18, Book Gift Day, in 2021.
Thanks to the early intervention education provided by Günışığı, children with low vision are able to participate in social life easily on an equal footing with their peers
Thanks to Türk Telekom's technology and infrastructure, the social responsibility project Günışığı (Sunshine) provides early intervention education remotely for the first time. The project stands out as the only example of its kind in Turkey and in the world.
Launched in 2014 together with the Association for Living Without Obstacles (EyDer), Günışığı project aims to enable children with 1% to 10% vision, who are considered to be totally impaired visually, to lead their lives without the help of others and continue inclusive education instead of a school for the visually impaired with early intervention.
In order to support the education of children, Türk Telekom broke new ground with the technological developments it carried out within the scope of the project. Türk Telekom's R&D unit designed the Günışığı Games, the world's first smartphone application in this field. Designed to help children with low vision to improve their visual skills and their hand-eye coordination functionally, the Günışığı Games can also be used by the elderly with weakened vision.
In addition, Türk Telekom launched the Okulumda Günışığı (Sunshine in My School) trainings in classrooms in order to support the inclusive education of the children involved in the Günışığı project, enabling thousands of educators to receive awareness seminars.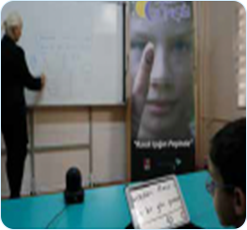 Developed by Türk Telekom's R&D unit, the "TahtApp" software offers an innovative solution which facilitates the follow up of in-class education for Günışığı children, who study in the same classes with their peers without disabilities.
The software detects content of the classroom board with a camera and transfers it to the tablets provided to children included in the project, in real time. The transferred content is arranged by visual processing techniques on tablets and converted into a format through which students can follow the lesson.
During this transformation, actions such as removing the teacher in front of the board from the image, increasing the contrast in the image colours and the font size can be performed. By transferring the images of the completed lesson to the device through the application's automatic lesson recording feature, students are provided with the opportunity to review the lesson subjects later.
Thanks to TahtApp, the standardisation needed for children with differences in reading and light perception while following the lesson in the classroom is successfully achieved.
TahtApp installations have been performed at 25 schools in 9 provinces so far.
All activities of the Günışığı project had strong social impacts
The Günışığı Open Learning Platform was established in April 2020 for children with low vision, considering the pandemic conditions. In this way, children with low vision and their families were supported with the live-broadcast training given by different branch teachers every weekday. In 2021, the goal of expanding the project to 81 provinces was achieved, and the low vision awareness trainings provided to 70 Günışığı Children and their families were completed through distance learning.
The Sunshine of Art Education Programme, conducted by Türk Telekom and Istanbul Modern in cooperation, brought the children of Company employees and children of Günışığı together with art. In 2021, 10 art workshops and 4 online museum tours were held as part of programme.
On April 23, National Sovereignty and Children's Day, one of the online museum tours was gifted to children. Günışığı children and Türk Telekom children participated in another online museum tour organised to mark Father's Day with their fathers. In the Portrait Workshop organised within the scope of Mother's Day, children drew portraits of their mothers and prepared surprises for them.
Türk Telekom EyeSense programme for visually impaired individuals
The EyeSense application, developed for the visually impaired for the first time in Turkey, facilitates the experience of photo-taking with an audio instruction system. The application, which performs scene alignment for visually impaired individuals, helps users take selfies or photos in regular formats.
In addition, EyeSense allows users to recognise objects with its object recognition feature and to distinguish the colours of objects with its colour recognition feature. The programme runs on the device and can easily recognise faces with the flash of the phone, even in dark environments.
Culture and art at AKM are blended with technology through Türk Telekom's knowledge and know-how
As a step towards its human-centred approach, Türk Telekom put its seal on a major collaboration at the Istanbul Atatürk Cultural Centre (AKM), which left its mark on Turkey's culture and art memory. Türk Telekom became the main supporter of AKM with the agreement signed between the Ministry of Culture and Tourism and Türk Telekom in November. In addition, the main opera hall with a capacity of 2 thousand 40 people, where the red globe, the symbol of AKM, is located, was named Türk Telekom for 7 years.
According to the protocol, the entire communication and technology infrastructure of AKM is also provided by Türk Telekom. With this cooperation, Türk Telekom aims to transfer its technology and digital transformation experience to the field of culture and art. In addition to providing WiFi hotspots, LTE and 5G mobile services and all end to end telecommunication services for art lovers to experience innovative technologies inside AKM and on Beyoğlu Culture Road, the Company plans to offer its visitors pleasant moments and privileged experiences with entertainment-leisure-experience areas and special events bringing technology and art together.
By presenting its own existence, power, experience and what it can add to life with the project as the main supporter, Türk Telekom is instrumental in transforming AKM, which was opened on October 29 and defined as the basis of socio-cultural consensus, into a valuable place which is alive at all hours, like an inclusive and embracing city magnet.
Türk Telekom Okulları project offers a modern educational environment to students
With the Türk Telekom Okulları (Türk Telekom Schools) project, Türk Telekom offers a modern educational environment for students in 78 Türk Telekom educational buildings, including 53 schools established across Turkey.
Every year, thousands of students graduate from these schools and educational buildings, 34 high schools and 19 primary schools, which are mostly located in the Eastern and South-eastern Anatolia regions and transferred to the Ministry of National Education. Moreover, every year Türk Telekom awards scholarships to successful students with insufficient financial means, while providing the necessary support to the library and computer classrooms in the schools.
Türk Telekom's civil defence movement: TTAKE
Türk Telekom Search and Rescue Team (TTAKE) operates within the Company as a voluntary civil defence movement composed entirely of Türk Telekom employees. Established in 2010, TTAKE aims to reach the spot as quickly as possible to help those in distress within the scope of its authority and possibilities, in all kinds of natural disasters, natural accidents that may occur in Turkey and in the world and other adverse conditions that require search and rescue activities.
In 2021, the number of its members increased from 150 to 200. TTAKE members, who received a total of 11 trainings during the year, also took an active part in the Antalya Manavgat fire. The AFAD accreditation process of the TTAKE team has also come to its final stage.
Türk Telekom values Turkey's sports
Türk Telekom continues to provide sports equipment, to allocate space and to provide financial support to Türk Telekom Amateur Sports Clubs, which have been operating in 33 different branches for 11 years.
Türk Telekom contributes to more than 5 thousand athletes playing sports in 33 branches from basketball and fencing to swimming and badminton in 40 cities, 41 clubs.
In addition to the national athletes which the Company has trained for our country so far, it has approximately 100 national athletes who actively play sports in clubs.
In 2021, the athletes supported by Türk Telekom represented Turkey abroad, achieving significant degrees in the World, European and Balkan Championships, and they won numerous medals in national-international competitions in different branches.
Institutions make a difference by using Türk Telekom Subscription-Based Donation System,
Türk Telekom became the first operator in Turkey to launch the Subscription-Based Donation System, which makes it easier for those who want to make donations via SMS. The system, which was used by Turkish Red Crescent for the first time in 2020, aims to ensure the continuity of donations.
The donor just needs to send an SMS to make a regular donation. Thus, the user can regularly donate every month during the subscription period. The amount of donation is reflected on the user's invoice monthly, or deducted from their remaining balance, and the user can unsubscribe at any time.
Following Turkish Red Crescent, Türk Telekom's Subscription-Based Donation System has also started to be used by the Turkish Aeronautical Association, the Turkish Religious Foundation, and the Educational Volunteers Foundation of Turkey.
Life standards of disabled individuals are rising with the Accessible Life mobile application
Türk Telekom brings the disabled people together with technologies that facilitate and enrich their lives with the Accessible Life mobile application developed according to accessibility standards and offered free of charge. Thanks to the application, disabled people can easily meet their daily needs with the features of cash currency recognition, voice readout, compass and times, panic button, where is my relative, adding subtitles to the video, e-book and where am I.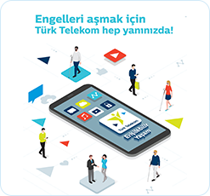 While the Accessible Life application is frequently used by the disabled, it has also won various awards in the international arena. The application was deemed worthy of the gold award in the category of Best Mobile Applications for Customers at the Stevie Business Awards, one of the most prestigious awards in the world. It was shortlisted at the Digital Communication Awards, where selected applications are featured, and won the Outstanding Customer Service Initiative category award at the Global Business Excellence Awards. It received the Highly Commended Brand award in the Best Use of Mobile within a Loyalty Strategy category of The Loyalty Magazine Awards.