Corporate Social Responsibility
In its social responsibility activities, Türk Telekom aims to eliminate the economic, social, regional or physical disadvantages that prevent access to information, by taking advantage of technological opportunities and offer equal opportunities to all its stakeholders.
Describing the contribution to the country's digital transformation as one of the key elements of its social responsibility approach, the Company prioritises everyone's equal participation in social life and easy access to information.
Taking the United Nations Sustainable Development Goals as its guide, Türk Telekom continues its activities in line with the principle of accessible communication for all. The Company designs and implements corporate social responsibility projects that add value to Turkey, particularly within the scope of Quality Education and Reduced Inequalities objectives.
Türk Telekom did not made any donations or expenditures to political institutions or organizations, lobbying activities or any organization engaged in lobbying activities, any trade union and any role that has an influence in political campaigns, public policies or legislation in 2022.
Türk Telekom undersigns projects that serve sustainable development with "Türkiye'ye Değer" (Türkiye is Worth All Our Efforts) motto
The social responsibility projects conducted by Türk Telekom in accordance with its "Bir fark yeter Türkiye'ye Değer" (Even the smallest difference matters, Türkiye is Worth All Our Efforts) motto, include Dijitalde Hayat Kolay (Life is Simple on Digital), Telefon Kütüphanesi (Books on the Phone), Günışığı (Sunshine), EyeSense, Türk Telekom Okulları (Türk Telekom Schools), Türk Telekom Arama Kurtarma Ekibi (Türk Telekom Research and Rescue Team), Türk Telekom Amatör Spor Kulüpleri (Türk Telekom Amateur Sports Clubs). Local social responsibility activities organised by Türk Telekom Provincial Directorates are also carried out under the umbrella of "Türkiye is Worth All Our Efforts".
Türk Telekom supports women in their entrepreneurial journeys with the Life is Simple on Digital Project
Women's participation to workforce and their employment are among the most important elements of sustainable development. The issue is also important to ensure continuity in economic growth and fully achieve social development and social justice. Serving Türkiye's digital transformation, Türk Telekom continues its Life is Simple with Internet for the Woman with Goals project, launched in September 2019, under the "Life is Simple on Digital" initiative. Aiming to increase women's knowledge on subjects such as information and communication technologies, e-services and e-commerce, the project in cooperation with the Union of Chambers and Commodity Exchanges of Türkiye (TOBB), United Nations Development Programme (UNDP) and Habitat Association, targets reaching 10 thousand women. As part of the project, 6 thousand women received digital literacy and digital marketing trainings by the end of 2022.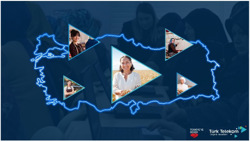 A Mentoring and Grant Support Programme was offered to the women who participated in the trainings so that they could improve their ventures on digital platforms. 20 women selected among the applicants to the programme received mentoring support from experts for two weeks.

Telefon Kütüphanesi (Books on the Phone) continues to be the address where visually impaired individuals can access information
Türk Telekom continues to offer a free of charge service through Telefon Kütüphanesi, where visually impaired individuals can access books and various contents via phone. Türkiye's first Telefon Kütüphanesi project, carried out in cooperation with the Boğaziçi University Technology and Education Laboratory for Individuals with Visual Disabilities (GETEM), has been providing the visually impaired people with access to information for 11 years. The library, where new and best-selling books demanded by the visually impaired are constantly added, has audiobooks and content in more than 50 categories. With the addition of one thousand new books and content in 2022, the total content has exceeded 3 thousand.
In addition to books, Telefon Kütüphanesi has 50 audio content in total including descriptions of 20 paintings from the National Palaces Painting Museum together with the artistic interpretations of these paintings, instant news feeds provided by the Anadolu Agency, cash currency recognition, and audio access to prospectus of more than 6 thousand medications. Users' interest in the Telefon Kütüphanesi continued to increase in 2022. Mobile application of Telefon Kütüphanesi has been downloaded 54 thousand times, and the application of Kitaplara Ses (Voice to Books), which facilitates voluntary reading for the visually impaired, has been downloaded 68 thousand times. Thanks to the Kitaplara Ses application, approximately 5 thousand books have been voiced so far, thus enabling the visually impaired to access a variety of books.
With Günışığı (Sunshine), Türk Telekom facilitates participation of children with low vision in social life on an equal footing with their peers
Embracing the concept of low vision in Türkiye and being the pioneer in this field, Türk Telekom touched the lives of thousand children by implementing the Günışığı project. Thanks to Günışığı, which stands out as the only example in this field in Türkiye and in the world, early intervention becomes possible for children with low vision through distance education provided by using Türk Telekom's technology and infrastructure.
Günışığı, which has been carried out in cooperation with the Association for Living Without Obstacles (EyDer) since it was launched in 2014, aims to enable children with 1% to 10% vision to lead their lives without assistance, thanks to early intervention trainings, and to participate inclusive education instead of a school for the visually impaired. Thousands of educators who teach at inclusive classes also receive awareness seminars under the Okulumda Günışığı (Sunshine in My School) trainings.
Günışığı Oyunları (Sunshine Games), designed as the first ever smartphone application in this field, is used by children with low vision as well as the elderly with impaired vision. The TahtApp software, which has been installed in inclusive classes at 26 schools in 11 provinces so far, enables Günışığı children, who have differences in reading and light perception, to benefit equally by making it easier to follow the lessons in the classroom.


Günışığı activities continue to have strong social impacts
The project scope has been expanded in 2022 to include veterans with visual impairment, the elderly, people with low vision above the age of 18 and educators. In this respect, a total of 320 online trainings were given to low vision children and their parents, as well as veterans, the elderly and educators for eight months. 7 thousand participants in total have benefitted from the trainings.
Günışığı activities lasted throughout the year with events held on holidays and special days such as April 23 National Sovereignty and Children's Day, Father's Day, Mother's Day. In 2022, Günışığı Children were also supported artistically with activities at the Atatürk Cultural Centre. On the occasion of the Disability Week, art workshops were held at the Atatürk Cultural Centre.
Türk Telekom supported the education of children by donating to the Günışığı project on behalf of employees on their birthdays throughout the year.
Selfie for everyone with EyeSense program
The EyeSense application, developed for the visually impaired for the first time in Türkiye, takes selfies and photos by making scene alignments for users. Visually impaired individuals can identify who was photographed by tagging the people photographed. The application also helps people who are not visually impaired to take selfies by providing audio guidance when the rear camera is used.

With the object recognition feature, the EyeSense application helps easily identify any objects. Visually impaired individuals can recognise objects, distinguish the colours of them and listen their descriptions by pointing their smartphones towards objects.
Türk Telekom at the heart of culture and art
As an institution leading the digital transformation of Türkiye, which considers strengthening the bond between art and technology day by day as well as protecting art and national culture among its fundamental social responsibilities, Türk Telekom signed an important cooperation with the Ministry of Culture and Tourism and has become the main supporter of Atatürk Cultural Centre (AKM), which was renewed in 2021 with a fresh identity worthy of our Republic.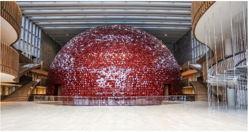 Türk Telekom, which gave its name to the opera hall that is located at the heart of AKM, undersigned many innovations in 2022 within the Cultural Centre and on the Beyoğlu Culture Road with its technology know-how.
Established in the outdoor space of Atatürk Cultural Centre within the scope of Beyoğlu Cultural Road Festival, which is organised twice a year by the Ministry of Culture and Tourism, The Türk Telekom Open Air Stage hosted more than 50 thousand participants. During the festival, the first of which lasted for 15 days and the second for 23 days, celebrities came together with music lovers at a total of 37 concerts in Türk Telekom Open-Air Stage. Cinema lovers also had the opportunity to watch the most popular movies of the recent times and 16 classic movies of Turkish cinema in the open air at TT Prime Open-Air Cinema. Approximately 2,500 photographers participated in the Photo Marathon competition organised as part of the Beyoğlu Cultural Festival sponsored by Türk Telekom.
In addition to art and technology, Türk Telekom continues contributing the mission of AKM to become a more accessible centre. Türk Telekom's "Sesli Adımlar" (Loud Steps) application, which aims to make life easier for the visually and hearing impaired, has started to be used in Atatürk Cultural Centre. Thus, art lovers with visual and hearing impairment can visit the indoor and outdoor areas of Atatürk Cultural Centre with the help of the special, operator-independent and free of charge mobile application.
Türk Telekom Schools
Within the scope of the Türk Telekom Okulları (Türk Telekom Schools) project initiated and successfully carried out by Türk Telekom, education continues in 53 schools all over Türkiye, 34 high schools and 19 primary schools.
Türk Telekom Okulları offers a modern education environment at 78 points, mostly located in the Eastern and South-eastern Anatolia regions, and thousands of students graduate every year from these schools.
Türk Telekom's Emergency Civil Defence Movement: TTAKE
Established in 2010, Türk Telekom Search and Rescue Team (TTAKE) aims to aid all kinds of natural disasters, natural accidents and incidents that may occur in our country or in the world and may require search and rescue activities, with 220 volunteer Türk Telekom employees across Türkiye.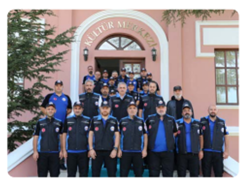 The Central team, which was included in the accreditation processes initiated by AFAD in 2022, was entitled to receive the "Urban Search and Rescue" certificate on April 14, 2022. The accreditation preparations in addition to the trainings that the regional teams receive during the year in line with the region-specific geographic conditions continue.
In 2022, which was announced by the Interior Ministry as the "Year of Drills", the TTAKE team was invited by AFAD to the drills held in different parts of the country. TTAKE's performance was appreciated by the local and national managers in all the organisations it participated in. Members continue to successfully complete the trainings assigned by the Company.
Türk Telekom adds value to Türkiye's sports
Türk Telekom continues to procure sports equipment, allocate sports fields and provide financial support to 43 Türk Telekom Amateur Sports Clubs which have been operating in 33 different branches in 41 provinces for 12 years.
Türk Telekom Amateur Sports Clubs, including 5,132 athletes in 33 branches, from basketball to fencing, from swimming to badminton, continue their efforts to move the country's sports forward steadfastly.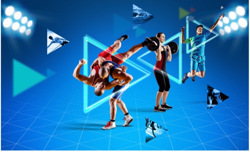 In 2022, the athletes supported by Türk Telekom represented Türkiye abroad, achieving significant degrees in the World, European Balkan and Mediterranean Championships, and winning numerous medals in national-international competitions in different branches.